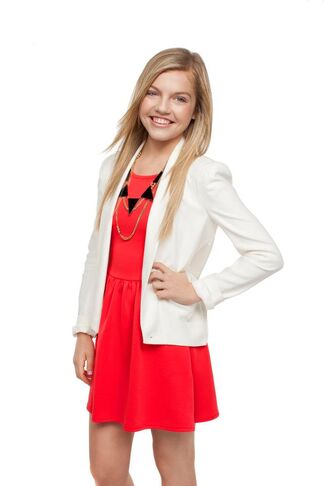 Shauna Case (born July 17, 1997) is an American actress, guitarist, dancer, and singer, also a main cast member on Incredible Crew. She is also known for characters such as Tlida the Overreacting Girl, Lil' Sis (Runnin' Errands with My Mom), and Emoticonnie.
Trivia
She's the youngest cast member.
She began a theater/stage career in Erie, PA where she had various lead roles in plays and was selected for the Erie Playhouse Showstoppers ambassador troupe.
Shauna moved to Los Angeles at age 12 to further her career, taking up dance in the process. Her acting skills have been shown in TV shows as well as national commercials.
She is co-writing music with Eddie Galan, Billboard winning and Grammy nominated.
According to her website, she plans to be featured in more TV and film projects.
Speaking of Case's music, she releasd a pop song called "Some Kind of Fairytale" in March 2013 on her YouTube channel. In spite of the fact that it has garnered only around 5,000 hits, the song received much praise on Twitter and via Fanlala.com.
Ad blocker interference detected!
Wikia is a free-to-use site that makes money from advertising. We have a modified experience for viewers using ad blockers

Wikia is not accessible if you've made further modifications. Remove the custom ad blocker rule(s) and the page will load as expected.