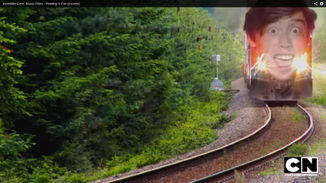 Rodney Tape-Face  is the tenth episode in season 1 of the sketch-comedy television series, Incredible Crew, that aired on March 21, 2013.
Sketches
"Embarrassed Girl" — A girl named Kylie (Chanelle) is being embarrassed by her parents when she goes out to dinner.
"Too Many Keys Man" — Johnny Clark (Jeremy) creates a superhero which holds too many keys.
"Spot the Difference" — Jeremy asks the viewer to spot the mistakes and finish the puzzle, with ridiculous answers.
"Reading Is Fun" — During a meeting in the AV club, students propose to create a commercial for the school's book club, Cornelius (Tristan) made a music video and it emphasizes the "imagination of books" dubbed ""Reading Is Fun".
"Three Course Field Goals" — Brandon tries to do a field goal with three course meals.
"Kids Security System" — Jeremy advertises a security system for kids who get robbed from their lockers, bikes and test answers.
"Rodney Tape Face" — A boy named Rodney (Brandon) gives tips on living life with tape all over your face.
"Crazy Fortune Teller" — Chanelle and Shameik do a hidden camera prank where they prank people by the pier by giving them crazy fortunes through a fortune-telling machine.
"Really Bad Grab Bags" — A sketch involves the crew grabbing absurd items out of bags.
"Community Center Clean-up" — Shauna, Jeremy and Shameik clean up the abandoned community center before the city close it down.
"Michael Shin: 5th Grade Ninja" — Teenager Michael Shin (Brandon) does ninja stuff in his school.
"Weirdest Things" — A sketch that depicts two of the "weirdest things ever".
"Nice Try Though" — Tristan finds it difficult to get even with Jeremy (even though Jeremy objects needing to getting even), and he does the "getting even" on himself.
"Labyrinth Homework Gatekeeper" — Brandon, Jeremy and Tristan are stuck in a maze in which to find a princess (Shauna). A gatekeeper (Chanelle) halts them and punishes them by doing homework.
Gallery
Ad blocker interference detected!
Wikia is a free-to-use site that makes money from advertising. We have a modified experience for viewers using ad blockers

Wikia is not accessible if you've made further modifications. Remove the custom ad blocker rule(s) and the page will load as expected.