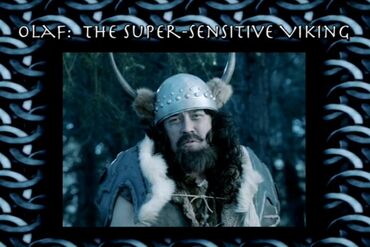 Olaf the Super-Sensitive Viking
is a recurring skit used in the ninth episode "Face Jeans" of
Incredible Crew
and also a character performed by IC cast member,
Tristan Pasterick
.
Premise
Olaf (Tristain) always gets offended by the other three Vikings (played by Jeremy, Shameik, and Brandon) for being insensitive and always runs away whining and crying.
Cast
Tristan Pasterick as Olaf
Jeremy Shada as Arlak
Shameik Moore as Viking #2
Brandon Soo-Hoo as Norlog
Ad blocker interference detected!
Wikia is a free-to-use site that makes money from advertising. We have a modified experience for viewers using ad blockers

Wikia is not accessible if you've made further modifications. Remove the custom ad blocker rule(s) and the page will load as expected.