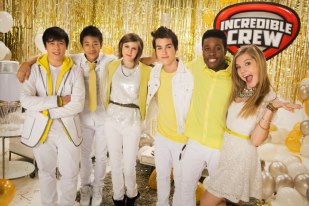 Incredible Crew Year's Eve
is the celebration event that took place on December 31, 2012, counting down the hours and showing clips of their new show,
Incredible Crew
, until a one-hour sneak preview of the series is shown at 8/7c. The hour-long preview of the show was composed of two 30-minute episodes: "Lunch Boxing" and "Pancake Genie". The two episodes would eventually be re-aired later in 2013 as part of the series run.
Ad blocker interference detected!
Wikia is a free-to-use site that makes money from advertising. We have a modified experience for viewers using ad blockers

Wikia is not accessible if you've made further modifications. Remove the custom ad blocker rule(s) and the page will load as expected.