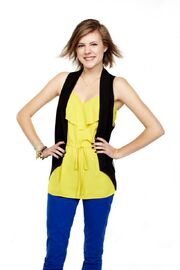 He holds out his hand, and in his palm are two shiny silver balls linked with a thick black thread … Inside me! I gasp, and all the muscles deep in my belly clench. My inner goddess is doing the dance of the seven veils … Oh my … It's a curious feeling. Once they're inside me, I can't really feel them—but then again I know they're there … Oh my … I may have to keep these. They make me needy, needy for sex.
Trivia
She is the oldest cast member on the show.
She is the only Canadian member.
She is 5 feet and 2 inches (1.57 meters) tall.
She and Jeremy share the same birthday.
She and Tristan are also dating.
The show got cancelled due to her underaged pregnancy.